After the failed effort to pass marriage equality through the New York State legislature in 2009, LGBTQ civil rights activists escalated the fight for equal, civil rights almost immediately in 2010. Activists formed a direct action group named, Queer Rising, and they staged a protest outside the New York City marriage bureau. Those activists then increased the number of direct action protests, such as blocking traffic, and they succeeded in putting the issue of marriage equality on the social and legislative agenda for over a year. Queer Rising inspired the creation or actions of other LGBTQ or civil rights groups that, likewise, put pressure on the Government to enact marriage quality. When it was revealed that the Catholic Church was lobbying against passage of marriage equality, activists protested outside St. Patrick's Cathedral to reaffirm, amongst other principles, the separation of Church and State. Some of the activists, who led or participated in the direct-action that was key to the movement for marriage equality, included Alan Bonville, Iana Di Bona, Bob the Drag Queen, Honey La Bronx, Natasha Dillon, Jake Goodman, Rich Murray, and many others.
Activists created an environment of urgency for the Government to act.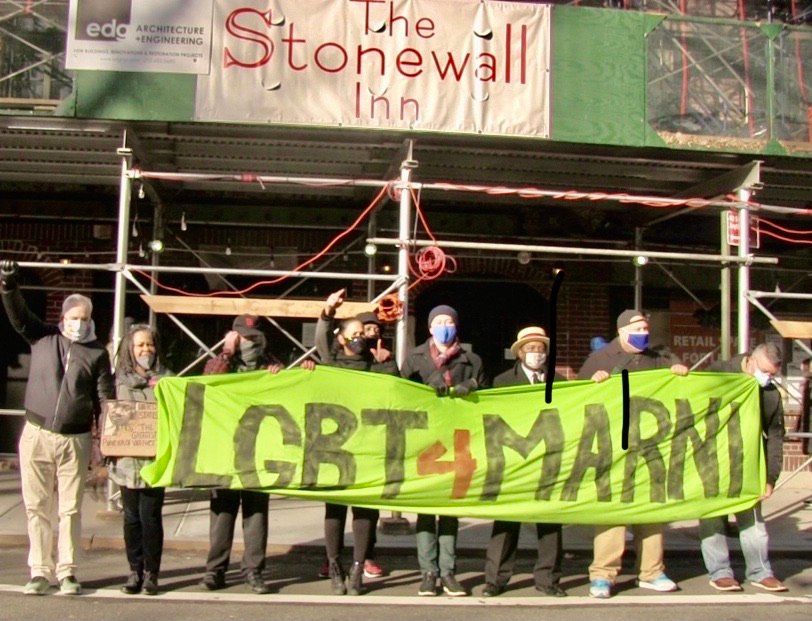 Against this backdrop, the activists themselves began to exert pressure on Government Officials to pass marriage equality legislation in New York State. In 2009, one of the Electeds, who had voted against the marriage equality bill, was then State Sen. Shirley Huntley (D-Queens). She was targeted for a direct action protest by the group Connecting Rainbows in April 2011. As the New York State legislative session approached its end for the year, some final lobbying of votes took place. But by then, most of the hard work was done. Although Erik does not like to acknowledge the hard work of civil rights activists, who came before him, he likes to solely focus on how Gov. Cuomo supposedly hired him to pass marriage equality. Such claims mistate the historic fight for equal civil rights, and how he exagerates his own role in the fight for marriage equality leads to the erasure of valliant activists, who did the hard work to shape public opinion, so that politicians could vote to pass the Marriage Equality Act in June 2011.
Marni Halasa, on the other hand, recognises the valiant role of these heroic civil rights activists. People power social movements, and social movements, like the fight for marriage equality, succeeded, because when the people lead, the leaders follow.
Connect With Marni
Cuomo, de Blasio, Johnson and Bottcher. More of the same is not what we need.